Sri Lanka's mining industry buried in corruption while unexploited resources just sit in the ground –

By Namini Wijedasa
Source : sundaytimes
Capital Metals PLC (CMET) is a global mineral sands company whose experiences in Sri Lanka illustrate why a thorough shakeup in the mining industry is long overdue.
The London Stock Exchange-quoted business paired up in 2016 with Damsila Exports (Pvt) Ltd, a Sri Lankan company that had exploration licences for mineral sands issued by the Geological Survey and Mines Bureau (GSMB).
Frustrating delays
It took over six years and an estimated US$ 11mn for CMET to graduate from exploration permits to industrial mining licences (IMLs). The path was circuitous, ambiguous and littered with obstacles. There was no timeline for the regulator, the GSMB—or multiple other agencies and local authorities—to grant approvals. It was open-ended, unpredictable.
After fulfilling every tedious condition placed before it, including unanticipated ones, CMET finally received two IMLs from GSMB in August 2022 that would allow it to extract minerals from the beaches of Umiri village in Tirukkovil, Ampara. Three months later, these were suspended.
The Bureau cited issues with the ownership structure of CMET's Sri Lankan subsidiary—issues that had already expensively been ironed out. Five months later, in May 2023, the GSMB cancelled the permits altogether after accusing the company of not having carried out any mining activities.
"Obviously, we couldn't do any mining as they had suspended our licences!" Greg Martyr, CMET Executive Chairman, told the Sunday Times. "We got two mining licences, and then they took them away."
CMET appealed the decision with the Environment Ministry Secretary. It also petitioned Sri Lanka's Court of Appeal through its local partner and issued a formal notice of dispute to the Government, seeking advice from a high-powered international law firm on the regulator's conduct in the context of Sri Lanka's international treaty obligations.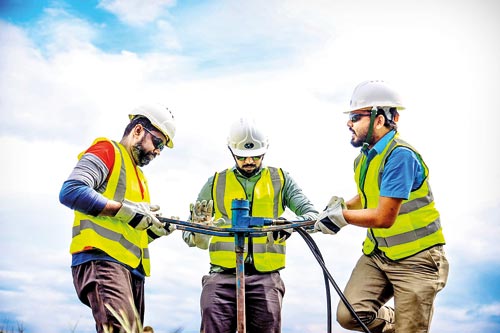 Strictures from Secretary
On Thursday, Environment Ministry Secretary Anil Jasinghe ruled that the cancellation of the IMLs was not correct and ordered the GSMB to reinstate them to CMET's local subsidiary, Damsila Exports (Pvt) Limited. He also criticised the regulator's conduct as having violated the Mines and Minerals Act.
The GSMB had failed to encourage investors to set up large-scale projects and to support the country to earn foreign exchange, Mr. Jasinghe observed. He urged the GMSB to "act transparently and with a good understanding of good governance principles while working as a government agency".
CMET still has seven pending applications for IMLs that the GSMB has refused to process, all for mineral sands extraction on the Eastern coast. This matter is also in court.
As for the IMLs that were freed up, the company will sign a financing agreement with the LB Group and start its project in earnest. The company vows to leave the beaches cleaner after extracting the black heavy minerals and returning the sand in pristine condition. It also promises to uplift the living standards of families in this neglected nook of the country.
Whether or not it keeps these pledges, conducting both mining and its business in an ethical manner, is left for the authorities to monitor. However, the impediments and delay tactics that CMET and its local partners encountered are a cautionary tale for all investors.
For instance, CMET started its initial environmental examination (IEE) in 2016. Once it was submitted, the GMSB called for a more detailed environmental impact assessment (EIA), for which the company also recruited external consultants. This was completed in 2019 but did not get approved till 2021.
Impediments galore
Everything points to a "regulatory" and mining setup that is steeped in corruption and lethargy and suffocating in maladministration. Practitioners say the lack of a national policy, and the absence of an investor-friendly framework that guarantees some certainty, are also to blame.
Another impediment in the mineral sands sector was a 2012 Cabinet decision not to allow any mineral sand export in raw or mineral form (without value addition)—minus clear instructions or guidelines on what the criteria were for value addition.

In the 30 years since the GSMB was set up, no major new international investor has entered the market to set up a successful mining and export operation. Most existing players have been in Sri Lanka long-term and are largely local companies outlaying comparatively modest amounts—by international standards—on their ventures.
"You need certainty," Mr. Martyr said, when asked what must change. This includes clear rules under which investors can work. They also need timelines. "It can take three years to get an EIA approved," he pointed out. "There is no accountability, not enough timing restrictions. There is too much vagueness in the regulations. And it creates the capacity for corruption because they're just sitting there saying, 'I don't have to give you an answer'."
"Hand out"
Industry sources unanimously said these problems filter from the very top all the way to the bottom—from the Ministry, the GSMB and the many other offices they deal with, including local authorities, pradeshiya sabhas and the bureaus of governors and area politicians.
"It's a system that's created to put the hand out," one senior mining source said, requesting anonymity.
"Why is there no mining industry?" another prospective investor reflected. "It's the same as in the energy sector. Their system is that they never grant licences because if they are given and people start operating, they don't have the opportunity to withhold the power. Their cash cow is gone. Nobody really wants an industry."
"Most of the time, you have an application and they just don't process it," he added. "And you have to take them to court to make them do it."
The licensing system has promoted a culture of under-the-table payments and lobbying. Multiple sources said that parties who have ties with "those in power" receive favoured treatment. Some are even proxies for them.
For instance, questions were raised in Parliament and elsewhere about the expedited granting of mineral sands exploration licences to a company named Midwest Heavy Sands (Pvt) Ltd that was purportedly close to former Environment Minister Nazeer Ahamad.
Mr. Ahmad lost his post and Parliament seat earlier this month on the basis of a Supreme Court ruling and the President took over his portfolio. It is rare for foreign investors to comment on the internal matters of a country they are visitors to. But CMET was thrilled because it had long believed its projects were hampered by Minister Ahamad who was eyeing those lands for Midwest.
"This is a positive development resulting in the removal from office of the Minister we believe to be primarily responsible for the illegal interference with our licences," Mr. Martyr said, in an official statement.
Before Mr. Ahamad, a GSMB Chairman and Director General were removed for their alleged role in a controversial sand-mining operation in the Trincomalee district—where the Chairman was found to be the owner of the company that secured the lucrative mining licence, facilitated by the Director General.
Conflicts of interest
There are conflicts of interest at multiple levels. The main one is that the GSMB is both the regulator and the issuer of licences, dealing directly with investors. In August, Cabinet approved a proposal by President Ranil Wickremesinghe to shift the authority for accepting and appraising investment proposals related to mines and minerals to the Board of Investment (BOI) from the GSMB.
Separately, the Legal Draftsman has been sanctioned to draw up legislation to establish a Geological Survey and Mineral Research Council and a Mineral Resources Regulatory Commission of Sri Lanka, R. H. S Samaratunga, the President's Senior Economic Advisor, said. He could not say when the law would be finalised but said a final meeting of relevant stakeholders will be held next week.
Dr. Samaratunga headed an 11-member committee on the effective use of Sri Lanka mineral resources. Its report was also adopted by Cabinet and includes a recommendation to restructure the "prevailing multiplicity of the institutional and legal framework". Some elements of the proposed restructuring plan have raised serious concerns among environmental groups but the long overdue separation of powers is not one of them.
Another urgent imperative is depoliticisation because lobbying, solicitation, favour-currying, and even tale-bearing, happens in multitudinous ways (extending as high as the office of each President).
For instance, one industry source revealed that ministers and other politicians who have prior knowledge of construction projects share the information with "their people" who then quickly secure the building material contracts. This has prevented the organic growth of the industry, limiting business to a small coterie of players.
It was also revealed in a recent Committee on Public Enterprises (COPE) meeting that examined matters related to the GSMB that applications for all manner of licences were habitually sent to the Minister for rubberstamping, thereby defeating the very purpose and definition of an independent regulator.
A national audit report disclosed that between March 2018 and May 2019, the GSMB Technical Services Pvt Ltd issued thousands of cubes of sand mined in Manampitiya on a preferential basis to three companies carrying out "development work" in the Polonnaruwa district—two of them owned by brothers of former President Maithripala Sirisena.
Bad eggs
On the flip side, it has been argued that many international mining companies are only interested in securing exploration licences to boost their share prices abroad and raise capital. There are many instances of this happening, facilitated by local "fixers" who have made it a lucrative business for themselves.
In 2022, former Environment Minister Mahinda Amaraweera decreed that such entities were violating the law by misusing their permits—which are renewable every two years—and hanging around without doing any work. A large number of licences were cancelled and many parties are still involved in appeals (their grids cannot be allocated to anyone else till the outstanding matters are closed).
Minister Ahamad had proposed the same to Cabinet before he left. But the overriding suspicion in the industry, whenever this is attempted, is that the authorities were creating a pile of permits to palm off to their preferred parties.
Investors like CMET believe that
Sri Lanka must set the terms for itself and separate the serious players from the bad eggs; then move ahead, setting tax and royalty rates that are mutually beneficial and globally comparable.
Unexploited resources don't serve anyone any purpose. They just sit in the ground. And Sri Lanka is already well behind.