Officer charged with damaging historical site appointed to Buddhist Affairs Ministry – By Yohan Perera
Source : dailymirror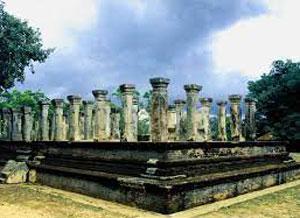 COLOMBO (Daily Mirror) – A new episode on the story of the destruction of the historical Raja Saba Mandapa in Kurunegala has emerged, with an officer attached to the Kurunegala Municipal Council charged with the crime reportedly appointed as an Additional Commissioner of Buddhist Affairs and the Ministry of Buddhasasana, Cultural and Religious Affairs denying knowledge of it.
Minister of Buddhasasana, Cultural and Religious Affairs Vidura Wickramanayake when contacted by the Daily Mirror, denied knowledge of the appointment. " I have looked into the matter but no one has been appointed even my secretary," he said.
Secretary to the Ministry Somaratne Vidanapathirana said he had not appointed anyone to the post. "We have not appointed any new commissioner. We will inquire from the Ministry of Public Administration whether they made any appointment," Mr. Vidanapathirana said.
It was reported that this officer attached to Kurunegala Municipal Council has been identified as a key suspect in connection with the destruction of the Raja Sabha Mandapa. Kurunegala Magistrate has issued warrants against this officer.
The Supreme Court in September issued an Interim Order suspending the operation of an Interim Order issued by the Court of Appeal which stayed the arrest warrants issued against Kurunegala former Mayor Thushara Sanjeewa and four others in connection with the demolition of the Rajya Sabha Mandapaya (Royal Assembly Hall) of King Buwanekabahu in Kurunegala. This Interim Order will be effective until the final determination of the appeal applications.
Supreme Court three-judge-bench comprising Justice Preethi Padman Surasena, Justice Kumuduni Wickramasinghe and Justice Shiran Goonaratne made this order pursuant to appeal applications filed by the Attorney General challenging the legality of Court of Appeal order dated August 25, 2020.
Meanwhile, the Supreme Court further suspended the Court of Appeal proceedings pertaining to the writ petitions filed by five individuals, including Kurunegala former Mayor Thushara Sanjeewa.
On August 7, 2020, warrants had been issued by Kurunegala Magistrate on Kurunegala Mayor Thushara Sanjeewa Vitharana, Kurunegala Municipal Commissioner Pradeep Nishantha Thilakaratne, Municipal Engineer Chaminda Bandara Adikari, Superintendent of Works Ilaludeen Sulfiya, and backhoe machine operator Lakshman Priyantha regarding the demolition of a building with archaeological value in Kurunegala.